About us
Pizzas hand made with effort and love on the spot by Global Pizza & Pasta Challenge Australia Finalist Yahmen, creating the ultimate pizza experience.
A page for pizza lovers to feed their passion for pizza. Bringing authenticity and honesty to the art and enjoyment of making and eating pizza. Through this we grow and nurture relationships with compassion in a relaxed and carefree environment.
WE PROUDLY USE UNBLEACHED - NATURAL FLOUR.
Oh and we have 17 years of experience and were a finalist in the Global Pizza and Pasta Australia challenge 2013.
In 2014 we entered the 3rd Annual Australia wide Pre Selection for the Australian Pizza Team, we received the GOLD Medal in our category (classic), and now we're proudly part of the Australian Pizza Team that will represent Australia at the world Pizza Championships and Pizza Olympics.
You can order online from us by clicking the ORDER ONLINE button and we will deliver our delicious food directly to your front door.
We look forward to serving you.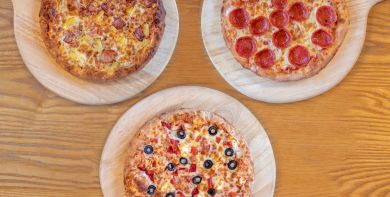 Reviews
Erin
"Delivery driver was so polite .. I'm sorry my dog scared you . Thanks for understanding n being nice"
15/01/2020
Petros
"been buying from here for a while, always been happy."
11/01/2020